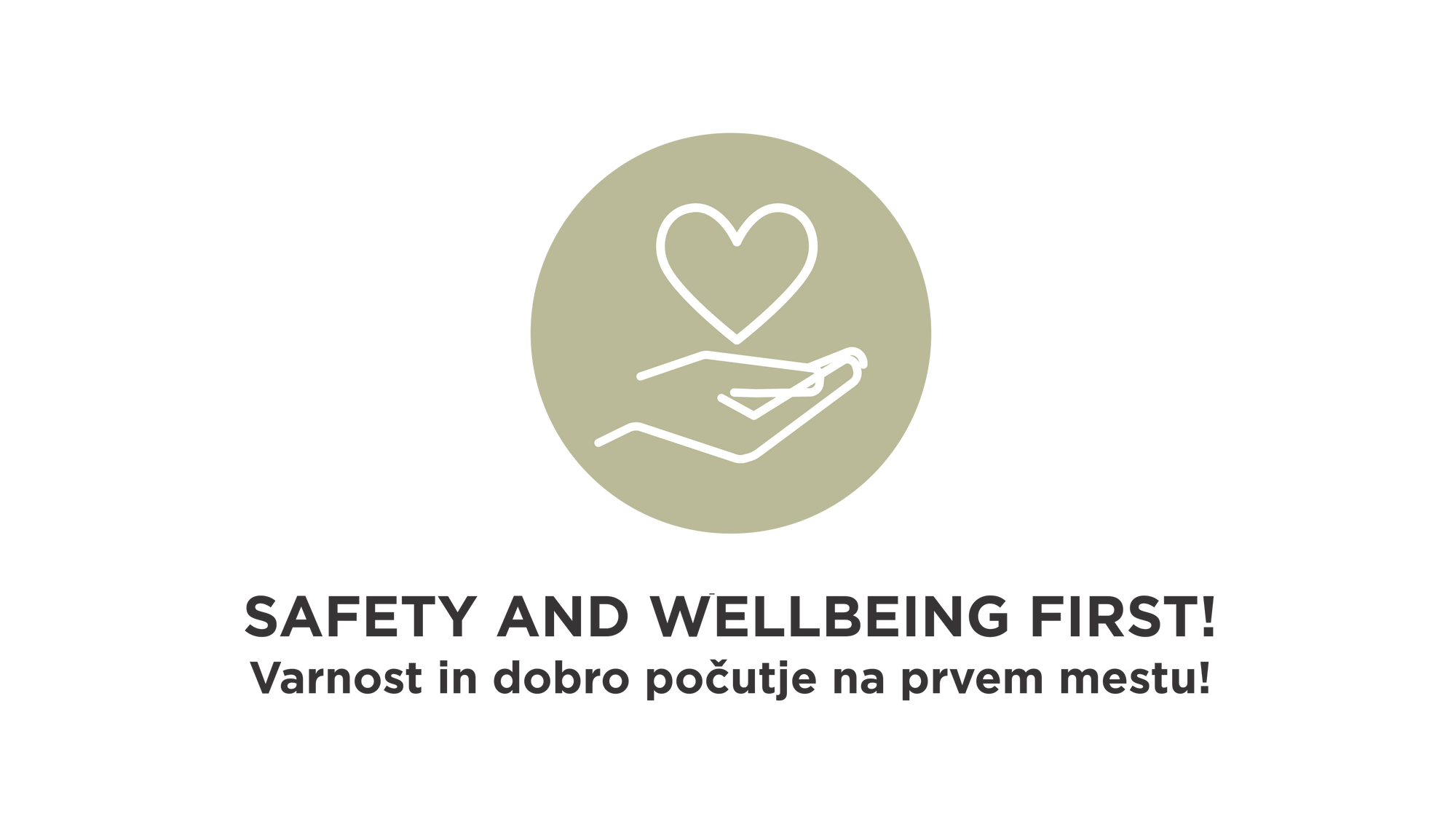 IF YOU'D LIKE TO KNOW MORE
Safety first! We continue taking care of you.
UPDATE: 15th April, 2022
Dear Valued Guests and Visitors,
The safety and well-being of our guests, visitors and employees are our utmost priority. We would like to share with you the activities and prevention measures that Union Hotels Collection has implemented to ensure our guests, visitors and employees are safe while staying with us. We invite you to experience the best care of your comfort and joy while away from home.
GENERAL INFORMATION

GOVERNMENT NOTICES
For the most updated information regarding the situation, recommended hygiene measures, instructions and travel information to the public about the COVID-19 / Coronavirus, please refer to the Slovenian Government Communication Office (UKOM).
LINK HERE

LATEST INFORMATION ON TRAVELLING TO SLOVENIA
Useful information and safety guidelines for carefree travel to Slovenia.
LINK HERE
HOTEL INFORMATION

NEW RESERVATIONS
Union Hotels Collection operates five distinct properties in the city center of Ljubljana. It may be possible that due to soft demand during this COVID-19 period, you may be informed and re-protected in a comparable or better accommodation in another Union Hotels Collection Hotel. We thank you for your understanding.

FLEXIBLE POLICY FOR EXISTING RESERVATIONS
We have adapted reservation policies to help you facilitate uncertainty and meet your needs in the event you need to change, cancel or postpone your travel plans. We kindly ask you to make contact with us right before your arrival at any Union Hotel Collection property so we can inform you of the latest status on your reservation.

For individual reservations booked directly with the hotel or via its website, please contact us at info@uhcollection.si.
For Events/Groups reservations (defined as 10+ rooms/15+ persons and any event/meeting/banquet space), you are kindly asked to contact us at group.sales@uhcollection.si.

PLEASE KINDLY NOTE for individual reservations made through the third parties (such as Booking.com, Expedia.com, etc.), you are invited to contact them directly as they may apply different policies.

ADDITIONAL HEALTH AND SAFETY MEASURES
We have implemented additional measures, which will allow us to improve upon standard check-in/check-out procedures. We are looking forward to welcoming our guests ... however we are keen on keeping the regulatory distance. We'd ask all our guests to respect the measures we have put in place to keep everyone safe.

CHECK-IN & CHECK-OUT

The check-in and check-out process will be done as quickly as possible to minimize interactions while maintaining social distance.
Each guest will receive full hotel information upon check-in, in the privacy of their own room via in-room telephone or via a mobile app (if applicable).
All employees adhere to safety-social distance, use of disinfectants and wearing of any protective equipment.
Limiting the number to persons in the elevator (maximum 2 persons).

HYGIENE AND CLEANING STANDARDS
Union Hotels Collection monitors closely the actions of the NIJZ (National Institute for Public Health for disease control and prevention), as well as the declarations made by the World Health Organization for staying safe.

Hand sanitizing stations and signage is located in our hotel public spaces to remind guests to maintain social distancing protocols.
All hard and high touch surfaces are fully cleaned and disinfected on a high-frequency basis in all frequent use areas, including POS terminals, elevator buttons, telephones, public restroom touchpoints, seating area furniture, keyboards and keys, push/pull bars, stairwell handles, escalator handles, elevator handles, all welcome desk areas and entrances and any other surfaces or areas that may apply.
One of the undisputed advantages provided by our hotels among high-standard cleaning facilities is the in-house laundry service. Bed linen and towels are kept in individual laundry bags, with which we handle with extreme caution.
All rooms are thoroughly cleaned and disinfected after each guest's departure. Housekeeping will only enter the guest's room after departure. All rooms are properly ventilated.
Guest rooms and its all objects are thoroughly cleaned and disinfected by the housekeeping staff. The housekeeping staff wears appropriate uniforms and all personal protective equipment according to the instructions of the NIJZ (protective gloves, face masks, aprons). They use the most effective cleaners and disinfectants. A new set of cleaning cloths and gloves are used for every guest room.

FOOD & BEVERAGES PROCEDURES AT OUR HOTELS
Our F&B outlets in the hotels have taken special steps to provide you top-quality service. Breakfast is available every day from 7.00 to 10.00. (Breakfast for guests at Central Hotel is served from 7:00 until 9:30). For more information please contact the front desk staff.

WELLNESS SERVICES
Sense Wellness is open daily from 9 am - 9 pm. Prior reservation is needed.

CONFERENCE SERVICES, EVENTS AND CATERING
For events & meeting rooms, the distance and protection measures for attendees, as well as catering services, will always be controlled. We apply all the measures and instructions of NIJZ and the appropriate health authorities, adding our own actions to protect customers, suppliers and employees.

For more information, please contact us at event.sales@uhcollection.si.
FREQUENTLY ASKED QUESTIONS

1. What are the requirements to stay at the hotel?

From 21st February 2022 RVT requirement is no longer required.

2. Does RVT* requirements apply to children as well?

From 21st February 2022 RVT requirement is no longer required.

3. Is it necessary for a hotel guest to wear a face mask?

Wearing a face mask is from 15th April no longer mandatory. We recommend to wear a face mask and gloves in the breakfast room.

4. What are the RVT* requirements?

R - recovered
V - vaccinated
T - tested

5. Where can a foreign guest gets tested for Covid-19?

Testing for foreign tourists with quick tests is self-funding and takes place at various locactions across Slovenia. Please click here for more information.


We thank you for your support and understanding and remain at your disposal for any additional assistance you may need.

Kindest regards,

The Management of Union Hotels Collection
Ljubljana – Slovenija
+386 1 308 1270
info@uhcollection.si

Source: slovenia.info
This page will be updated when new information about advice or guidelines from relevant health and other authorities becomes available.
SHARE