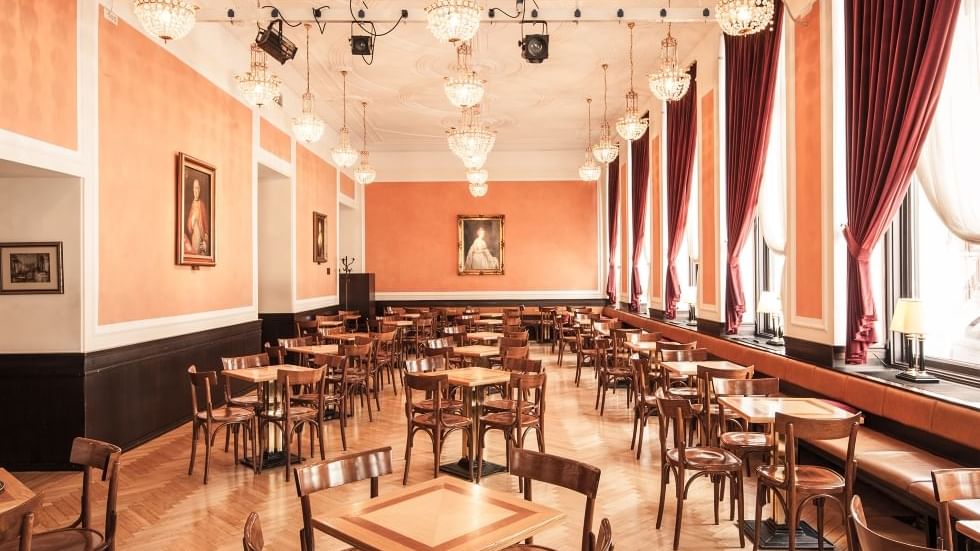 IF YOU'D LIKE TO KNOW MORE
WARMLY WELCOME TO THE LEGENDARY UNION CAFÉ!
Brighten up your day by visiting the elegant Art Nouveau café, a popular gathering place of Ljubljana residents, which boasts more than 100 years of tradition. The former centre of artists and intellectuals lives in a much more relaxed version today. Because of its way of serving and small details, it is popular with both young and young at heart. In fact, among all those who love to enjoy small specialities in a quiet environment, such as excellent Turkish coffee served in a dzezva, desserts prepared according to traditional recipes and a variety of small snacks.
During weekends from 9:00 until 13:00, we will pamper you even more with a carefully selected offer of brunches. If you find yourself in the city centre and you are tempted by the hotel breakfast, you can enjoy it daily in the Union Café between 6:30 and 9:00 (entrance through the hotel).
We kindly invite you to join us in a pleasant atmosphere and a good company at Union Café!
Opening hours: 9:00 - 21:00
SHARE