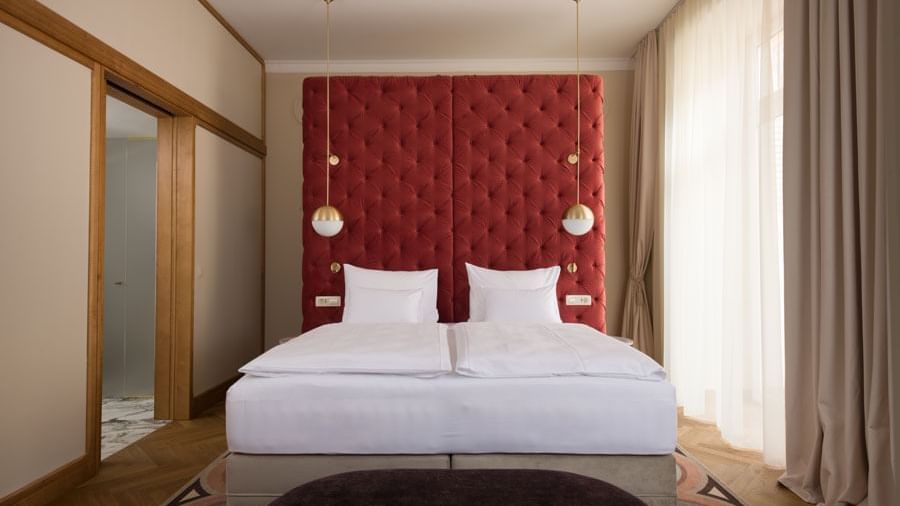 IF YOU'D LIKE TO KNOW MORE
OPENING OF THE RENOVATED FIRST FLOOR OF GRAND HOTEL UNION
The Grand Hotel Union, Ljubljana's Art Nouveau jewel, has re-opened the renovated first floor.
Ljubljana, March 2021 - The Grand Hotel Union, a historical landmark of the Union Hotels Collection, re-opens its first floor after a major renovation, setting future design and stylistic interior concepts that have brighten up the hotel's original theme with a fresh contemporary flare.
The hotel renovation was inspired from its long history dated in the beginning of the 20th century. The secession decorative elements from the original hotel were joined with modern accents into contemporary elegance. Headboards resembles to the shapes of the original room furniture from 1905, classy parquet evokes cosiness and room's table boards are made of native Slovenian limestone.
Grand Hotel Union is located on Miklošičeva cesta 1, in the heart of the picturesque pedestrian area in Old Ljubljana. It was built in 1905 and designed by the renowned architect Josip Vancaš. In those times, it was the first modern hotel in Ljubljana and also the largest building in the city. For more than a century, it has hosted many celebrities such as: Queen Elizabeth II, Bill and Hillary Clinton, the Dalai Lama, Orson Welles and many others.
The hotel on its first floor presents 25 brand new hotel rooms and suites, among them: nine double Superior Comfort rooms, ten double Grand Deluxe rooms, three Junior suites, one Residence suite with two bedrooms, one Grand Corner suite and the most prestigious suite in Ljubljana, the Grand Union suite.
We kindly invite you to check out the photos of our great new rooms on the 1st floor of Grand Hotel Union and visit us. You are warmly welcome!
SHARE