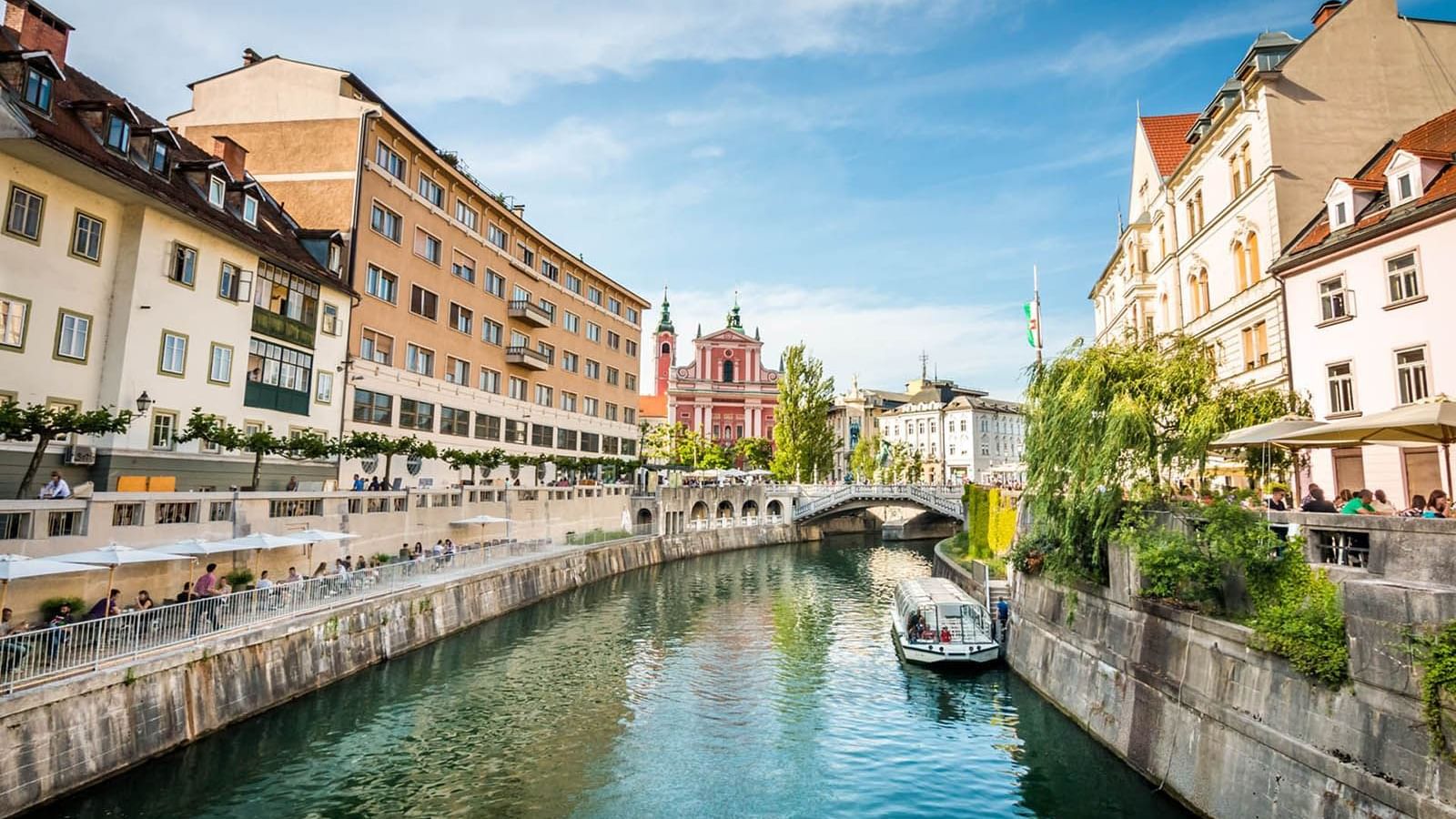 IF YOU'D LIKE TO KNOW MORE
Yes, Ljubljana Has a City Beach Too!
Spending the summer in the city does not mean you need to give up all the summer fun! In fact, Ljubljana boasts quite a few interesting and fun aquatic activities and there are also a number of natural swimming spots worth visiting not far from the city. That's all you need to know.
The river Ljubljanica offers some excellent and increasingly popular water sports options, which are gaining on popularity not only because of sports as such, but also because they allow seeing Ljubljana from a different perspective.
These are the water sports and activities you can enjoy in Ljubljana:
1. SUP
Stand-up paddle-boarding on the Ljubljanica is considered one of the most popular ways of exploring the capital of Slovenia at this time of the year. This comes as no surprise as Ljubljana is supposed to be the only European capital, where you can actually do it through the very centre of the town. And to top it off, there are a number of stand-up paddle-boarding courses that are suitable for absolute beginners.
2. Kayak or Canoe
You can also explore Ljubljana and the surroundings area from a kayak too. There are a number of agencies offering sports equipment rental and various tours, including a guided two-hour kayaking or canoeing adventure from the village of Podpeč to the very centre of Ljubljana – a perfect way to enjoy the beauty of the Ljubljana Marshes and the wonderful nature.
3. Boat Tour
If you love scenic boat rides, then a boat tour on the river Ljubljanica is just the thing for you. During a one-hour boat ride, you will sail along the river channels and discover the beauty of nature surrounding the Ljubljanica, as well as its history and symbolism.
And if the activities in the middle of the city are not enough, there are also a number of natural swimming spots to choose from – you can reach them by scooter or car:
4. Iški Vintgar
One of the most popular natural swimming spots is the Iški Vintgar gorge. It is a popular retreat for families with children looking to get away from the hustle and bustle of the city at weekends during the summer.
5. Lake Podpeč
Lake Podpeč (Podpeško jezero) has long been considered a popular summer retreat for young people. It is an extremely deep lake – its depth of 51 metres makes it on of Slovenia's deeper lakes. And the good news is it is only 15 kilometres away from Ljubljana.
6. Rakitna
Rakitna, which boasts a beautiful man-made lake, is a true paradise. Since it is only a 34-minute drive from Ljubljana, it has become a popular destination for all the people who like to do a bit of hiking in the nearby hills at weekends. Surrounded by the peaks, you feel like you are far away from the hustle and bustle of the city, although Ljubljana is only a short car ride away.
Wish to experience all the summer fun Ljubljana has to offer. Book your stay at Central Hotel and enjoy!
SHARE