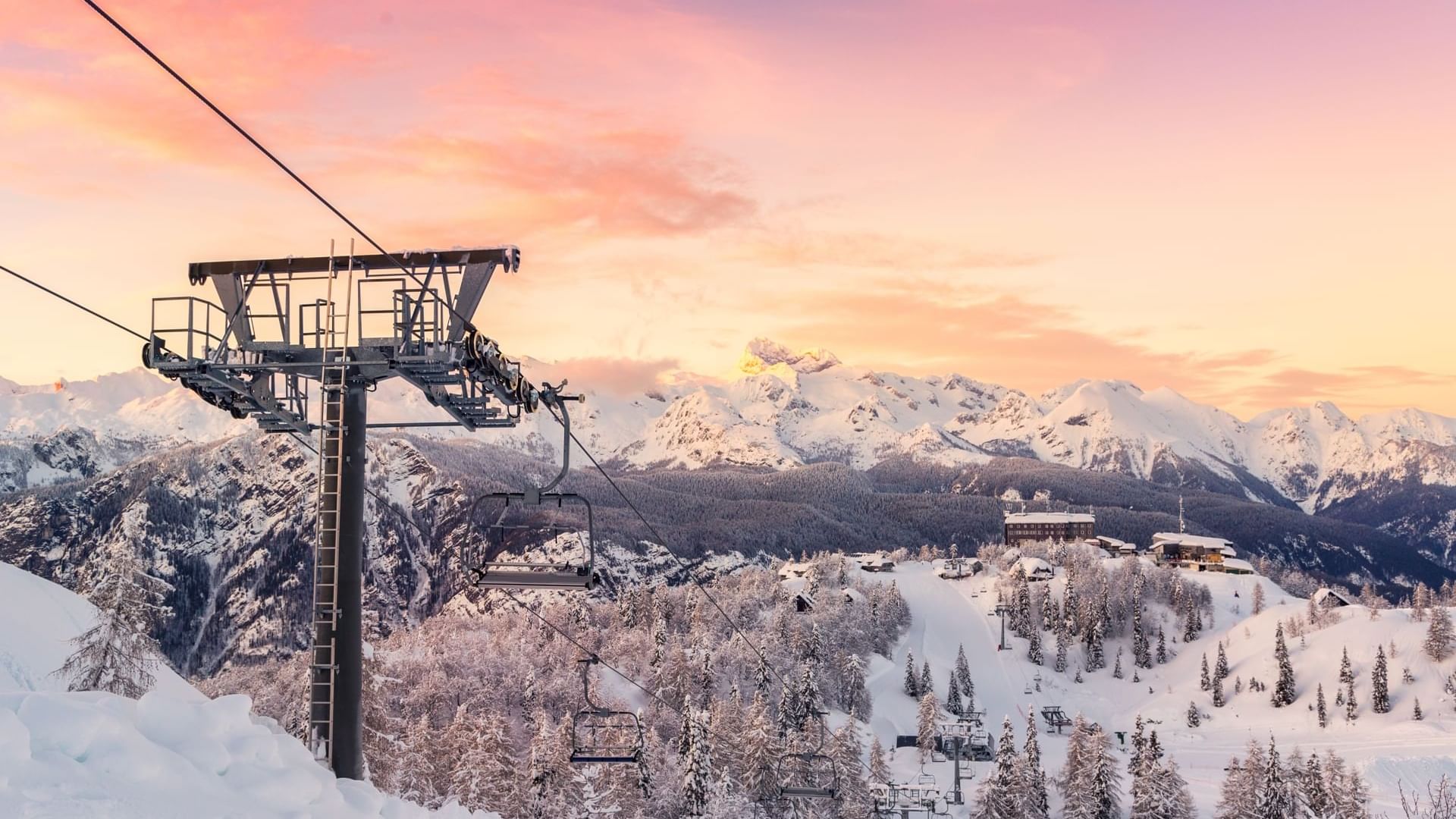 IF YOU'D LIKE TO KNOW MORE
Skiing in Slovenia? These are 5 Ski Resorts Where You Can Enjoy the Winter in All Its Glory
Alpine skiing, snowboarding, cross-country skiing, ski touring, sleighing… Despite the wide range of other winter sports Slovenian are crazy about, the listed ones are without a doubt the most popular ones. Slovenia may not have giant ski resorts the likes of some in other countries, but there are a number of smaller ski resorts, where you can enjoy winter sports on excellent ski trails – including some that host the Biathlon and Alpine Ski World Cup competitions.
1. Krvavec
Visitors staying in Slovenia's capital Ljubljana most often decide to go skiing at Krvavec, a ski resort that is closer to an international airport than any other ski resort in Europe. But its appeal is not only its proximity to Ljubljana, Krvavec also has a total of 35 kilometres of well-maintained ski trails, a snow park, a beginners' training grounds and a ski school. True winter enthusiasts can spend the night in igloos in the Eskimo Village.
Source: slotrips.si
2. Mariborsko Pohorje
A bike park during the summer, a ski resort during the winter – one that's popular with electric snowmobile enthusiasts, among others. Mariborsko Pohorje is the largest ski resort in Slovenia, extending over 250 hectares. It is almost guaranteed to have snow in the winter – its ski slopes are covered with snow for as many as 100 days a season. Another record-breaking feature is the longest night-time skiing area in Slovenia with ten kilometres of ski trails.
Source: slovenija.info
Where Success Is at Home
The Mariborsko Pohorje ski resort is the host of the annual Golden Fox World Cup race. Slovenia has no shortage of medals won by athletes in various ski disciplines, but when it comes to skiing Tina Maze is the one and only. She is the first Slovenian to win a gold medal at the Winter Olympics, and has been named Slovenian athlete of the Year by the Slovenian public six times. It is worth mentioning that the Slovenian skiers' first major success came in 1984, when Jure Franko from the Slovenian town of Nova Gorica won a silver medal at the Olympic Games in Sarajevo, winning the first even Winter Olympics medal for the then Yugoslavia. Another Winter Olympics competition Slovenians have fond memories of are the 1994 Olympics in Norway, where medals were won by Alenka Dovžan in the alpine skiing combined, Katja Koren in slalom and Jure Košir also in slalom.
3. Kranjska Gora
For many, Kranjska Gora is Slovenia's most enchanting ski destination. Not only does the town have a fairy tale-like appearance, Kranjska Gora also hosts the annual alpine skiing World Cup race – the Vitranc Cup, which has been one of the most important sporting events in Slovenia since its very beginnings. In addition to some excellent skiing, you can also have fun on the sledding track and in a snow park for snowboarders and freestyle skiers. Source: Penzion - Livada
4. Planica
If you visit Kranjska Gora, you are also likely to visit Planica, a nearby valley that has become world-famous for its ski jumping and flying records. With its surrounding area, Planica is also a popular winter destination for cross-country skiers as well as extreme winter sports lovers as there are a number of ice waterfalls in the area, where thrill seekers can go climbing with a guide.
Source: Nc-Planica
Slovenians Are Big Fans of Ski Jumping
Ski jumping competitions in Planica and elsewhere in the world is when almost all Slovenian are glued to the TV, cheering for our ski jumpers. An especially memorable ski jumping event is a win by the Prevc brothers, who shared the podium for their double victory, and Primož Peterka winning the Overall Crystal Globe in the 1996/97 season. And, of course, a bronze medal won by our ski jumpers' team at the 2002 Winter Olympics.
5. Pokljuka
Pokljuka, which is famous for its biathlon competitions, is a paradise for amateur and professional cross-country skiers in winter – no surprise as there are 60 kilometres of marked cross-country skiing trails in the area, as well as a small ski slope and sledding track. The best time to visit, however, is when the Biathlon World Cup competition is held, as anyone can have a good at it at the biathlon centre.
Photo: Biathlon-Pokljuka
Our Greatest Success While
Tina Maze is the Slovenian Skiing Queen, Petra Majdič the best of the best when it comes to cross-country skiing. Strong, independent, determined and above all a woman of her word. Never has her determination shone through more than at the 2010 Winter Olympics in Vancouver, where she finished third with a broken rib and a punctured lung. True and almost a little supernatural. Ever since, Slovenians have been enamoured of her and it will be difficult for any athlete to beat this.
While we are talking about winter, continue reading our blog to see The Joys of Winter.
SHARE