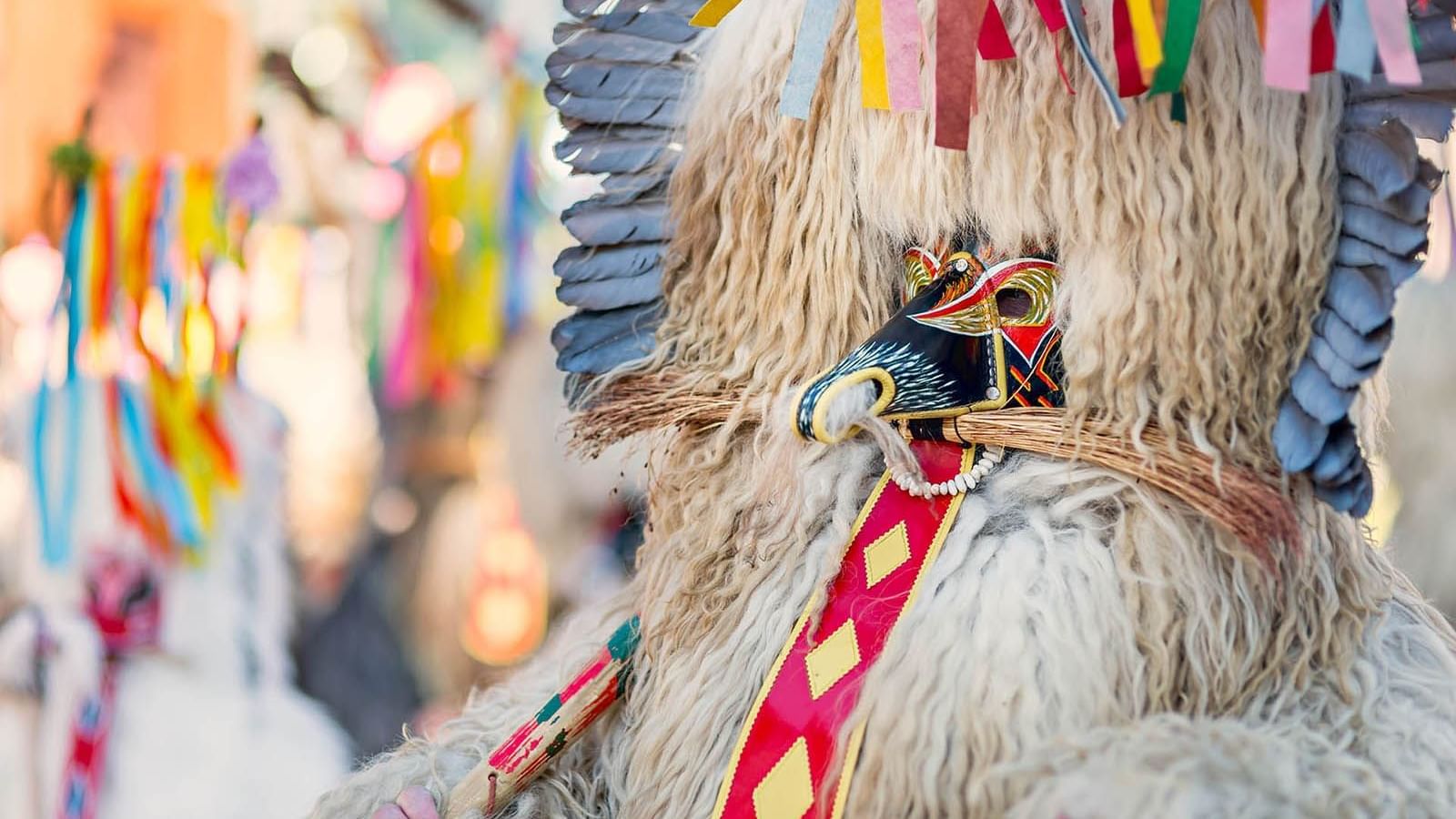 IF YOU'D LIKE TO KNOW MORE
Shrovetide in Slovenia
If there is one holiday Slovenians are really crazy about, it is definitely Shrovetide! A proof of this is a long list of traditional Shrovetide carnivals, which take place at this time of the year in different places all over Slovenia. Would you like to know where?
Ljubljana
Every year, Slovenia's capital Ljubljana stages the so-called Dragon Carnival on Shrove Saturday. A grand Shrovetide parade is accompanied with an entertaining programme, which closes at the Kongresni Trg square. In addition to various imaginative modern-day masks, the parade features the masks typical of the Pagan folk tradition, including the so-called kurenti, laufarji, and morostarji.
Ribnica
This small Slovenian town has a long-established Shrovetide tradition with all sort of different masks presented at the parade and special attention devoted to imaginatively and thematically connected group masks, whose messages are usually critical of the state authorities.
Cerknica
In Cerknica, the festivities usually begin a few days before Shrovetide, while the main carnival parade takes place on Shrovetide Saturday, when the whole town comes to life wearing carnival masks.
Kranj
Kranj is supposed to be the Slovenian town where the largest number of people participate in Shrovetide. The carnival masks usually present an overview of people and events that marked the previous year, and visitors can also see a parade consisting of ethnological groups.
Ptuj
Ptuj is considered to be the Slovenian town with the longest Shrovetide tradition; in fact, in Slovenia there is hardly a person who knows nothing about Ptuj's kurentovanje. Kurentovanje is one of Slovenia's most popular and ethnologically significant carnival events featuring kurenti, the main figures that wear traditional sheepskin garments and are believed to chase away winter. However, the parades are not the only thing taking place in Ptuj at Shrovetide, there are also a number of ethnographic and carnival events with concerts and dances, while the main event remains everything that goes on in the streets, much of it to do with pagan mysticism.
Grand Hotel Union Is Part of the Shrovetide Celebration…
At Shrovetide in the past, the people of Ljubljana would traditionally get together for the so-called black-and-white redutas – masquerade balls. In recent years, the ball has changed slightly, and when the Olympic Games were held in Rio in 2016, the black and white colour was spiced up with some colourful accessories typical of the Brazilian carnival. Here are some highlights...
Why are Slovenian people so excited about Shrovetide?
Besides the fact that people wearing masks tend to loosen up more quickly, another reason Slovenians look forward to Shrovetide are all the typical Slovenian Shrovetide treats, such as doughnuts filled with peach jam or chocolate, and flancati, i.e. deep-fried dough treats.
The Grand Union Café (Kavarna Union) will take part in all the Shrovetide festivities, preparing fresh treats for our guests on a daily basis.
Interested in more Slovenian traditions? Continue reading here!
SHARE