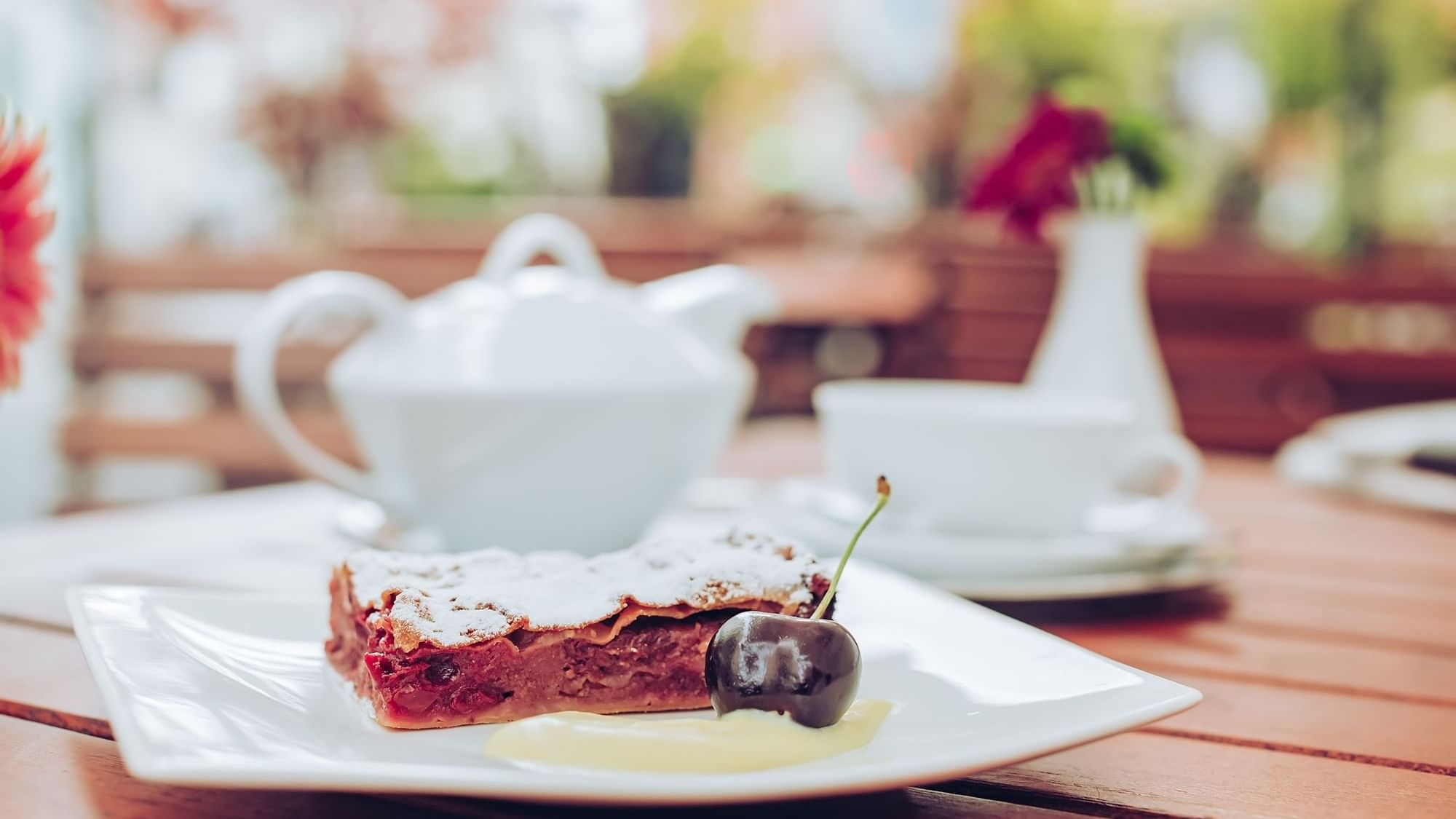 IF YOU'D LIKE TO KNOW MORE
A MUST-TRY Dessert ANYWHERE in Slovenia
Are you one of those travellers who bring a list of must-try foods everywhere they travel? Even if the finest Slovenian wines, cured meats and stews that are so typical of Slovenia are not 100% to your liking, there's one dessert that is prepared in just about every town and village in Slovenia that you will love.
When summer turns to autumn and when the days get shorter, Slovenian home bakers bring out their recipes for the best autumn-winter dishes. In terms of popularity, there's one dish that is without doubt on the top of the list: apple strudel.
According to the original recipe, which dates back to the times of the Austro-Hungarian Empire, the dough had to be rolled out so thinly that a love letter could be read through it. It did not take long for the apple strudel to become immensely popular with Slovenians, who, however, added their own touch to the traditional recipe.
While some other Slovenian desserts are typical only of certain regions – the very best 'blejska kremna rezina' or 'kremšnita' (a vanilla and custard cream cake) is found in Bled, 'the Prekmurska gibanica' (a layered cake) in the region of Prekmurje and the 'kobariški štruklji' (dumplings with a sweet filling) in the area of Kobarid – apple strudel is the undisputable king of sweet foods just about anywhere in Slovenia. And on top of it all, the recipe is almost identical in all regions. Some fine strudels with various fillings are prepared by the pastry chefs at Grand Hotel Union. If you'd like to try some, the Grand Union Café is the perfect place to do so. You can enjoy a piece of strudel over a cup of fine coffee or enticingly aromatic tea, or any of the other tasty treats of offer, in the cafe's charming Secession-style ambience.
However, if you'd like to make it yourself and surprise your loved ones with some fresh-baked strudel, we've got you covered – there's a recipe for you below. The first rule of a really good strudel that Slovenian bakers swear by is to always use apples that lean towards the tart side.
Apple strudel ingredients (recipe source: okusno.je):
250 g flour
3 tbsp oil
0.5 tsp salt
125 ml lukewarm water
1.5 kg tart apples
80 g breadcrumbs
15 g sugar
65 g raisins
65 g chopped almonds
1 sachet of vanilla sugar
1 tsp cinnamon
125 ml heavy cream
40 g butter
Method:
1. Pile the flour onto a pastry board. Make a well in the middle of the pile and pour in the oil, add the salt and just enough lukewarm that will allow you knead the dough until it's no longer sticky but firm. Shape the dough into a smooth ball, brush it with oil, cover it with a warm inverted bowl, and let it rest for 20 minutes. A tip for the best dough: If you've never made dough before, master home bakers advise you to brush it with oil before letting it rest, as this will prevent it from getting torn during rolling.
2. Give the raisins a thorough wash. Peel the apples, remove the pips and cut the apples into thin slices. Add the breadcrumbs, sugar, raisins, almonds, vanilla sugar, cinnamon and then stir to combine. Preheat the oven to 210 °C.
3. Divide the dough into four parts. Roll out each piece of the dough individually on a lightly floured board. Then move it to a tablecloth sprinkled with flour and stretch it paper-thin. Carefully trim-off the dough edges using a knife. Spread the heavy cream all over the dough, followed by the filling. Roll the dough to enclose the filling and then place it on a well-greased baking tray.
4. Bake the strudel for 60 minutes. While baking, brush the top with melted butter several times so the crust will turn golden!
Bon appétit!

Apple strudel is only one of the specialties found all over Slovenia. If you'd like to find out more about other popular Slovenian foods and traditions, check out our blog.
SHARE