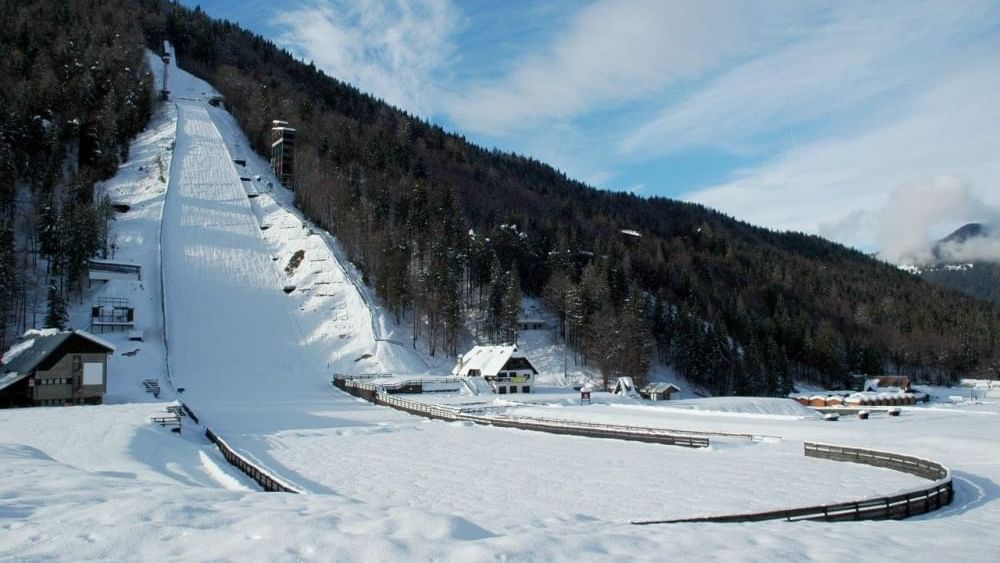 IF YOU'D LIKE TO KNOW MORE
10 Reasons for Visiting Planica and Staying at Union Hotels Collection
Because Planica is only an hour's drive from Ljubljana, Slovenia's capital.
In fact, it's not a popular destination for sports lovers only during the ski-flying event in March, but throughout the year. But it's winter that evokes a special feeling among the local population. Besides watching ski jumping and ski flying, you can spice up your stay in the vicinity of the sports centre with some cross-country skiing in an underground cross-country skiing track.

Because you can combine a sporting event with some pampering.
Spend the day at the foot of the Planica ski flying hill and when the night falls, enjoy the comforts of the Sense Wellness centre at uHotel, where you can relax and get some relief for your tired muscles.

Because Planica is the home of numerous records.
Did you know that as many as 42 world ski jumping and ski flying records have been set in Planica? This makes for a very good reason to visit this event.

Because Planica's tradition goes hand in hand with Grand Hotel Union's tradition.
Almost 90 years of ski jumping in Planica and a tradition of more than a 100 years in Grand hotel Union lay a good foundation for a relaxing holiday, which you will remember for years to come.

Because you can enjoy a genuine Slovenian experience. Not only by going to the sporting event in Planica brimming with national pride, but also by later indulging in some authentic Slovenian culinary delights which will await you in Union Hotels restaurants.

Because you don't need to worry about transportation.
When World Cup competitions are held in Planica, it's almost impossible to get there by car, as huge numbers of ski jumping lovers with their cars try to get as close to the ski jumping hill as possible. Union Hotels can take care of your transportation to the venue, so you won't have to worry about parking or finding your way there.

Because you can combine a sporting event with some culture.
The three-day event in Planica is only for the most hard-core enthusiasts. For those of you who would like to spice up your visit to Slovenia with some sightseeing in Ljubljana, Grand Hotel Union, Grand Hotel Union Business, Hotel Lev and Central Hotel provide a perfect starting point for exploring the marvels of Slovenia's capital on foot – all four hotels are located in the very centre of Ljubljana and there are three price ranges to choose from.

Because we take good care of your business partners.
This year, the ticket options for Planica include special tickets for companies. If you've decided to buy this kind of tickets, we can take care of your business partners after the event is over, making sure they get to enjoy the best of what we offer in terms of accommodation and cuisine, and thus help you on your way to new business successes. The sporting event can be combined with a business event as well; in fact, our hotels boast a number of conference and functions halls suitable for conventions and conferences.

Because booking early comes with benefits.
If you decided to go the Planica sporting event some time ago, an early booking – at least 21 days before your arrival – pays off, i.e. you will get a 10% discount on the best available price, and you can look forward to a number of bonuses if you book directly with us. Have a look at the whole list on our website http://www.uhcollection.si.

Because there's really no better opportunity to experience a Slovenian festival of sports.
Round off the sporting event, which will welcome you with open arms, in the comfort of a hotel which numerous guests have chosen to be their home away from home in the past.

Speaking about winter, continue with reading our blog: The Joys Of Winter.
SHARE